During a fundraiser this past September, I got to talking with a reporter from Stockton's largest newspaper. "Stockton is a majority-minority community" I said, with a sense of pride. After all, the city's population of people of color has increased from 30% to nearly 65% within the past 30 years.

"Stockton is a plurality, not a majority-minority community," the reporter replied. I think we both had too much to drink, given that a community can be both, but one thing is for certain: Stockton is diverse.
The sold-out fundraiser event was Backing Resources for Emerging Artists Democratically (BREAD), a mini-grant program hosted by Placeholder Magazine, where the ticket sales ($1,000) went to a community arts project presented by artists or organizations. This year's winner was The Cambodian Experience: Our Journey to America Exhibit.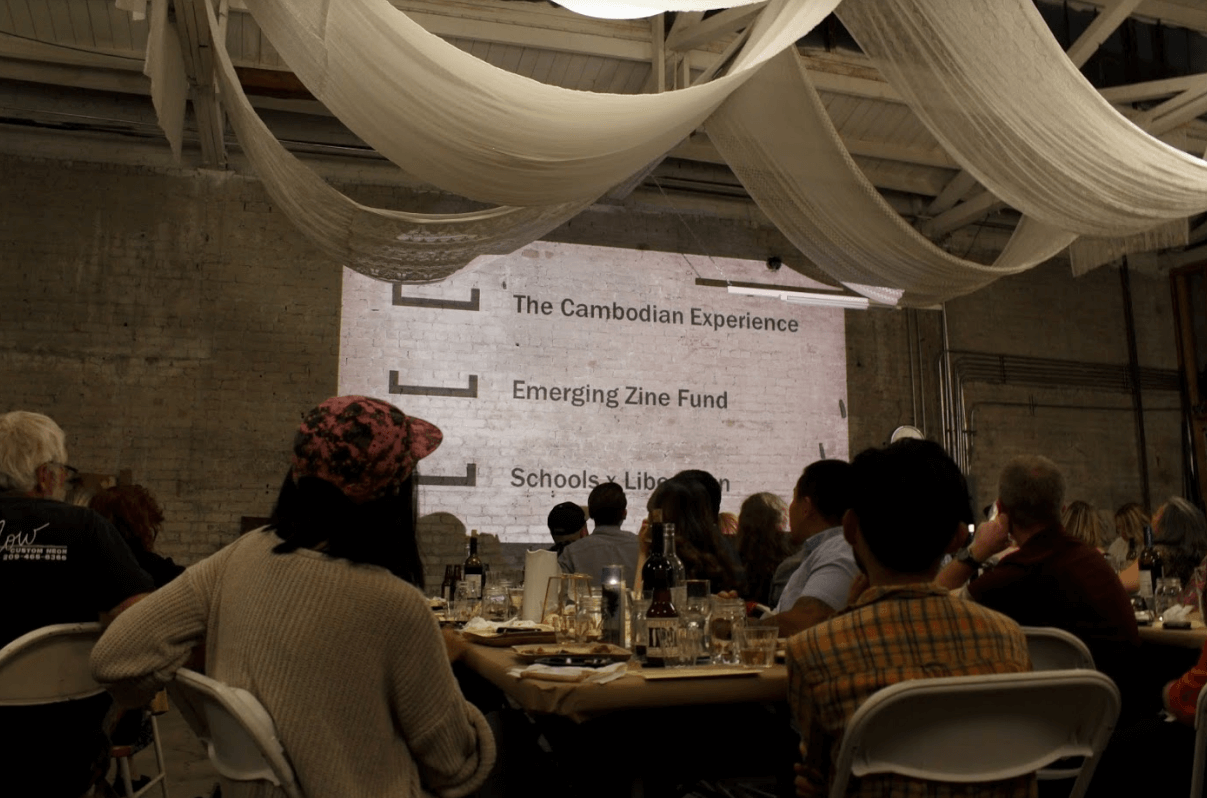 Pictured are the candidates for B.R.E.A.D.; "The Cambodian Experience" was awarded the $1,000 prize and received additional funding from The Stockton Arts Commission and UC Berkeley.
The Cambodian Experience is an exhibit put on by United Cambodian American Network (UCAN), and its purpose is to raise awareness, educate, and revive Cambodian-American history and culture. Through multiple galleries, the exhibit will showcase the cultural music, dance, and theater forms of the Cambodian people. A gallery will be dedicated to the people whose lives were lost in the Cambodian Genocide.
In addition, The Cambodian Experience highlights the great influx of Cambodian refugees who arrived to the United States due to the mass genocide that took place in Cambodia between 1975-1979. Many of which found a home in Stockton. Today there are over 10,000 Cambodians living in Stockton.
"The Cambodian Experience: Our Journey to America" exhibit is FREE. The event opens on December 16th at the San Joaquin County Office of Education, and will run until December 22nd.
Here's the exhibit program:
Saturday, December 16th:
1:00-6:00pm: Be the first to view the exhibit, which will showcase the history, culture and art of Cambodia.
1:00pm: Opening Ceremony. Seating is limited for this ceremony.
Sunday, December 17th:
9:30am: Dance Performance by Khmer Ballet Of Stockton & Khmer Youth of Modesto
11:00am: Evolution of Khmer Attire Fashion Show
12:00pm: Cooking Demonstration by Elissa Sok
2:00pm: Live Music by Audrey Svay and Special Guests
4:00pm: Artist Panel
Monday, December 18th:
2:00pm: Cambodian Authors Panel
4:00pm: Cambodian Americans in Education Panel
Tuesday, December 19th:
Wednesday, December 20th:
2:00pm: Introduction to Khmer Language
Thursday, December 21st:
2:00pm: Cambodian Genocide Discussion
Friday, December 22nd:
Exhibit Location:
San Joaquin County Office of Education
2707 Transworld Drive
Stockton, CA 95219


For more information contact: thecambodianexperience@gmail.com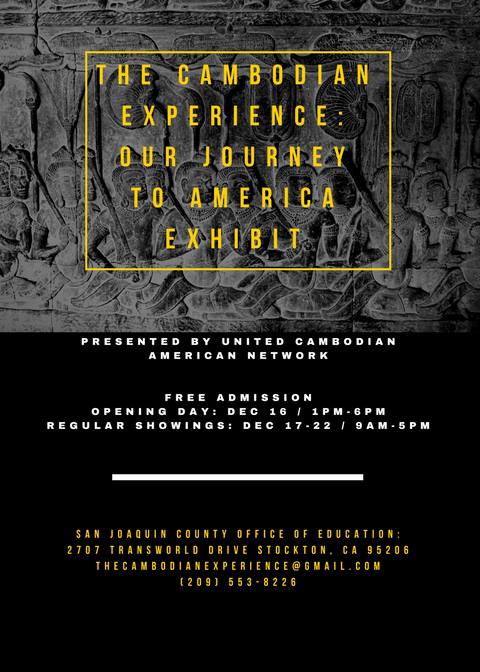 Cover image courtesy of UCAN.